Malaga

A hidden gem for most people, but a small large city with a facinating mix of old and new, the harbour and the Alcazaba.
The old city is a pedestrian area and gives you the best choice of food, bars and shopping.
The Picasso meuseum well hidden in the old town with all of the cosy restaurants and tabernas.

You can find Malaga on Google Maps here

Have you found your favourites?

Try these:

El Pimpi, a well known and genuine tapaz establishment which you can access from Calle Granada and from the square in
front of the Alcazaba.

Dos Gatos is a cozy taberna well-known and situated close to the middle of Calla Granada.





El Piyayo is sited oposite to Dos Gatos and is a very nice place to have a snack while you watch people pass by.




Bodega El Patio with a great selection of Paellas and a nice menu as well

NOT to forget: Malaga is playing in La LIga and have their homematches at La Rosaleda.
Why not follow them on FaceBook and eventually go to see one of their home-matches?




You will find more info here: Malaga CdF


Her are some more tips where to get a good bite :) (you will find other /earlier editions in the left column)





Here is a nice guide for what to do in Malaga: (unfortunately just in swedish...)





The main street of the pedestrian area: Callle Granada and a cosy Tapaz restaurant/ Bodega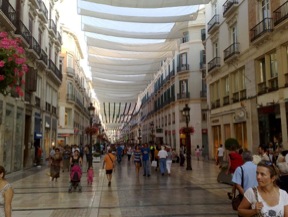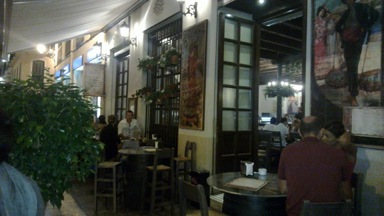 The Alcazaba at night