Casa Li for Sale!
We have decided to buy a new house in the lovely Torrox/Nerja area and for that reason
we will sell our house "Casa Li" as soon as possible, but no rush.
You can have a look at it from the pictures here on the
homepage
Some furnitures can be take over for a reasonable price or to follow if the price for the sale is agreeable.
Interested: mail us through this
link
The house has newely been refreshed outside with some new plaster and paint; also a door has been added
from the large bedroom to the terrace upstairs.
Downstairs:
Entrance door.
Large livingroom with access to kitchen and bathroom, staircase to 2. floor.
Kitchen newly built in old style with cupboard for amenities and a large fridge/freezer, door to small terrace and
stairs up to 2. level. Outside shower.
2. level:
Guest bedroom with bedsofa for two persons and small library/livingroom
Master bedroom with a nice window facing east/south overlooking the hills and the river Torrox valley, and on the
other side a double door with shutters out to the small 2. level terrace.
Stairs up to the roof terrace.
3. level:
Large terrace fasing east/south and west with a very nice view overlooking all of the surroundings.
About 32 sqm with a wooden roof.
We have had some real estate brokers giving estimates and you will find the property listed through:
Skandimaklarna
in Nerja, Malin Billbäck or
Competa Properties
, Laura Sanchez in Torrox.
Some of the furmitures can follw the house after negotiation and for an agreeable price.
Face of the house to the ally of Calle Sayalonga; it is possible to drive down to the front door.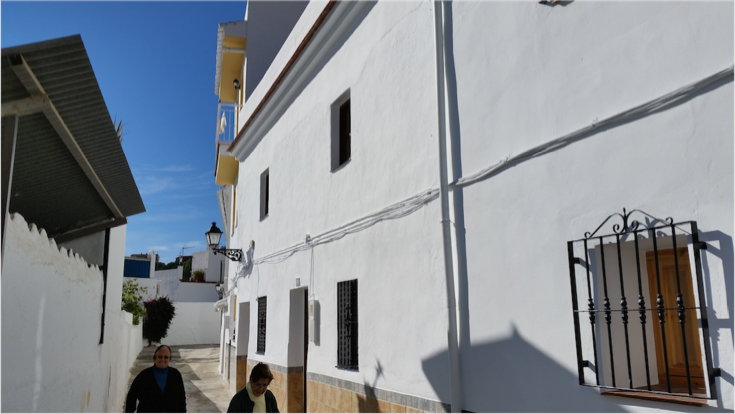 The new door between the large bedroom and the terrace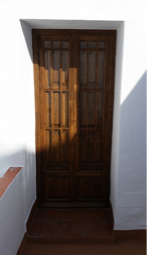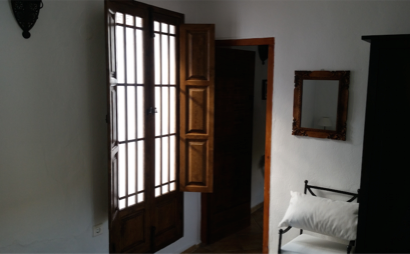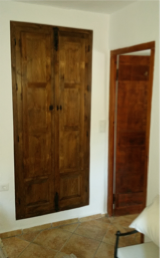 The "courtyard" has a small space outside the kitchen and a terrace outside the bedroom.
The A/C is perfect for cooling/heating year around; the indoors outlet is in the livingroom downstairs.